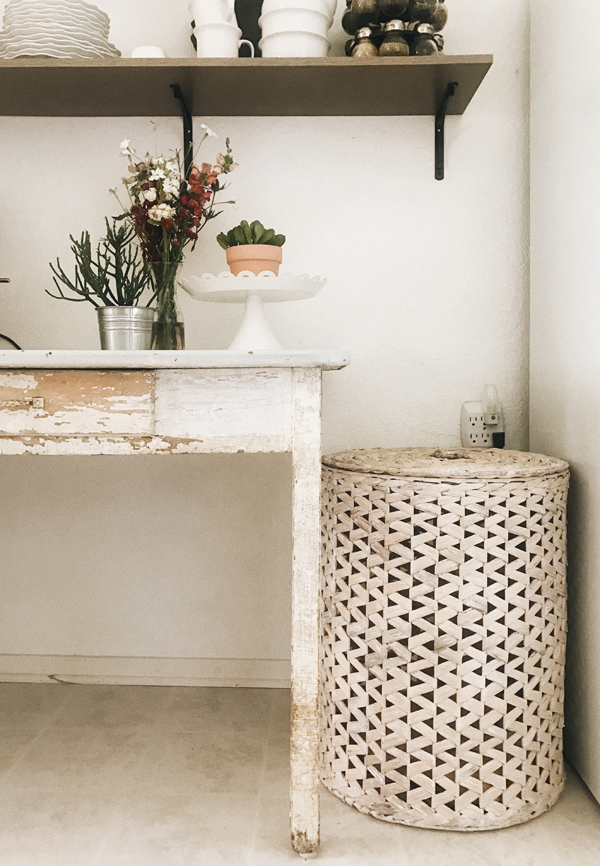 The last two years we've had a fold up table right there, yeah a fold up table. Wasn't the cutest but I knew what I was looking for and btws tables are expensive guys. Like way expensive. So I didn't want to just buy a table that I didn't love.
I went on a Flea market trip with my friends Abby and Ashley and while we were walking around I spotted this beauty! Instantly fell in love and picked up this gem for $30 bucks! I was pretty damn stoked and now sort of addicted to flea markets now.
If any of you are in the Grand Rapids area and recommend some awesome markets please let me know!! I defiantly see this being a Saturday morning go-to from now on!
We also had some nasty plastic trash bins next to the table, one for cans and one for trash. I thought that this basket was a perfect cover up for a trash can, we're getting a plastic circular trash can to put inside and then put the trash bag around that. #trashcanhack That way it's hidden and it makes the space a bit prettier!
Anyways I just really feel like we scored on this piece and it makes so uber happy! Have you found any awesome flea market finds recently?!